About Us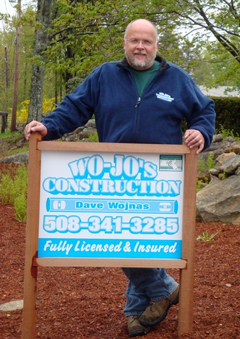 Wo Jo's Construction
is the MA home improvement contractor for families in the Massachusetts area. If you need home remodeling, hardwood flooring, kitchen remodeling, or an extraneous home improvement, Wo Jo's is the best choice around. Wo Jo's is a family owned Massachusetts home improvement contractor, run by Beth and Dave Wojinas.
Beth
 is the owner of Wo-Jo's Construction and handles all administrative tasks. She is a long time resident of Ashburnham Massachusetts. Beth's responsibilities include business and marketing.
Community service around MA
- Beth has been involved in a number of community volunteer positions and completed 9 years of service on the Gardener Community Action Committee. Beth has also been a member of the Parish Council, St Denis Church. Beth has a 35 year association with Project Contact summer camp program. In 2010 she completed a 24 year tenure as the summer camp director. If you are looking for a Massachusetts home improvement contractor, feel free to be in touch with Beth or Dave.
Dave
 is a native of Fitchburg, MA, and proud fan of the New England Patriots. He moved to Ashburnham, Massachusetts when he and Beth were married. Dave has been honing his carpentry skillssince his grandfather began to teach him as a child. The family has been a Massachusetts home improvement contractor for generations--Dave owes his strong work ethic to his Grandfather. Dave has worked with a number of local tradesmen over the years in the contracting industry. He maintains his membership as a retired Teamster after over 23 years as an active member. On Sundays you can often find Dave in Foxboro supporting the Pats.
Elite standard -
Many companies that do home improvement in MA strive to comply with building codes. For Dave's projects, he says that the code is the minimum standard.Dave has set high standards to go above and beyond the expected workmanship level whenever possible. We are located in Ashburnham, MA and service the greater Massachusetts area.
Licensed and Insured:
Wo-Jo's Construction is a licensed and insured Massachusetts home improvement contractor. You can feel confident that we will provide the professionalism, expertise, and coverage that is necessary for your project to run smoothly.
Contract Supervisor License
Home Improvement License
Lead Payment Renovation License
Standard Liability Insurance