Custom Built Furniture for Home Remodeling in Massachusetts
One of the most rewarding aspects of what we do at Wo-Jo's Construction is building custom furniture. Over all the years of
home remodeling in Massachusetts
, we've learned that the intrinsic value inherent in a piece of custom furniture can go a long way. Unlike stock pieces of furniture, custom built pieces have a uniqueness to them that can manifest itself in a variety of ways. We've seen our custom built furniture become family heirlooms, cherished highlights of a living room or office, and stand out as key pieces of a home's unique kitchen cabinets in Massachusetts. Sometimes, you can get that frustrating feeling when you can't find the one piece of furniture that you know would completely bring a room or kitchen together. Sometimes you may find a piece that comes close to what you want, but the wood species or the finish applied just doesn't work for you. Maybe you have a set of furniture that could use just one more piece to effectively nail down the composition of a room you have in mind.
The Advantages of Custom Built Furniture
Custom made furniture's obvious advantage over stock furniture is that it can be specifically tailored to suit any of your needs when it comes to home remodeling in Massachusetts. Having custom furniture designed and built for you lets your imagination run wild while traditional furniture leaves you with an unfortunately limited amount of pieces to choose from. Say you've got a lovely living room full of matching furniture but need a matching home entertainment center. This, and situations like this, are where having furniture custom built really shines.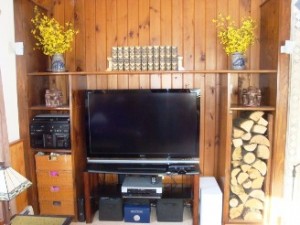 As seen here, we custom designed and built a home entertainment center that elegantly flows with the overall composition of the home owner's living room. But there are limitless situations where having custom built furniture genuinely helps home improvement in MA. Are your kitchen cabinets in Massachusetts in need of work that requires a cabinet or a shelf with an untraditional design structure? Maybe your kitchen design needs just one matching piece made with the same species of wood or the same finish as the rest of your kitchen cabinets. Custom building furniture is just one other of our many specialties at Wo-Jo's Construction. Let us collaborate with you on your own unique furniture ideas and needs. If you're interested in any home remodeling, contact us at: (508)-341-3285