Finish Carpentry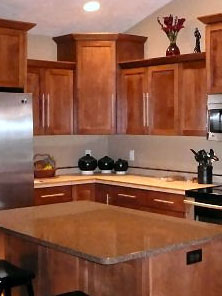 If you need anything done that involves exact measurements and no room for error, you are looking for finish carpentry in the state of Massachusetts. Wo-Jo's are the experts you want on your side. We provide expert craftsmanship and will make your cabinets fit seamlessly into your home. We pride ourselves on perfection.
If You Don't Like Quality, We're Not the Massachusetts finish carpentry Contractor For You.
Give us a call and see what we can do for your home.  Hire us to build your baluster stairs with a gorgeous balustrade railing that will custom fit into your home beautifully. We can provide finish carpentry services such as baseboards that fit seamlessly with the style of your casings and will bring the entire room together. Wo-Jo's Construction does not cut any corners just to "get the job done."  We take the time to thoroughly collaborate with you and are committed to turning your ideas and the vision in your head, into reality.
Doing Away With Exposed Grain
One issue that is seen fairly often in finish carpentry is exposed grain. Exposed grain reflects light in a different way than the face and it also absorbs paint and stain differently, causing a rough look. We will never leave grain exposed. We also make sure that miter joints are fitted properly so there is no gap, mismatch, or time lost through mistakes.
Other Massachusetts Custom Carpentry Services
Other Massachusetts home improvement contractor services we provide are custom furniture making, deck building and flooring installations as well as others. Wo-Jo's will bring every resource we have to your doorstep to make your designs work. There is no one more reliable or trusted in Massachusetts for finish carpentry. Please
contact us
to get more information or set up an appointment.