The Benefits of Hardwood Flooring in MA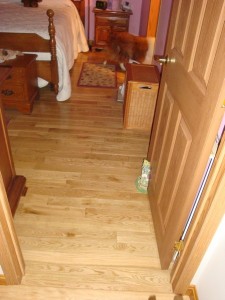 We all know that newly installed hardwood floors can dramatically spruce up a space unlike most construction projects. Many people are so stunned by the natural aesthetic beauty of hardwood floors that they are often unaware of the many inherent benefits these floors offer. At Wo-Jo's Construction, we've been installing
hardwood flooring in MA
for an almost immeasurable amount of time now, so we've seen firsthand just how many seemingly unknown benefits they offer. This is why we'd like to take this time to let you know about some of the many advantages that hardwood flooring in MA can offer any property owner.
Increased home value – In a National survey, 90% of realtors stated that homes with hardwood flooring sell for higher prices and sell faster than those that don't.
Indoor air quality – Unlike carpet, hardwood floors don't trap in dust mites, allergens, or mold and mildew spores, which have the potential to trigger asthma attacks and cause asthma like symptoms in otherwise healthy individuals.
Longevity – Much like the historical buildings in New England, hardwood flooring in MA, when properly maintained, can last from 40 to 100+ years.
Customizable – Because there are hundreds of grades and species of wood to choose from and a wide array of different types of stain colors, the decorative possibilities of hardwood floors are almost limitless.
Easy maintenance – Regularly using a dust mop on hardwood floors and adding a maintenance coat to them about every 7-10 years is all they need to maintain their original luster.
Easily matches décor – Whether you have a traditional or contemporary style, you'll see that wood floors are versatile enough to accent nearly every interior décor.
Natural insulation – One inch of hardwood flooring provides the same amount of insulation as 15 inches of concrete.
This list could go on and on really, but the fact is that hardwood flooring is one of the most beneficial choices to make when it comes to interior decorating and working with Wo-Jo's Construction, you can rest easy knowing that your home is in good hands. If you're interested in hardwood flooring in MA, contact us at: 508-341-3285